NEWS
October 16, 2015
Joe Bagshaw questions Lindsey Graham on campaign finance at candidate forum. (ARTICLE)
July 28, 2015
Joe Bagshaw questions John Karsich about campaign finance reform at candidate forum. (ARTICLE)
January 16, 2015
NH Rebellion comes to Conway. (ARTICLE)
March 11, 2014
The Carroll County towns of Eaton, Sandwich, and Wakefield pass resolutions calling for a constitutional amendment addressing campaign finance reform. A total of 54 towns in NH have now passed resolutions.
April 25, 2013
Open letter to Sen. Jeb Bradley in the Carroll County Independent
April 23, 2013
More than two-thirds of New Hampshire adults support a constitutional amendment to limit campaign contributions and spending, new polling data released today reveals. The statewide poll, conducted by the University of New Hampshire Survey Center on behalf of People For the American Way, Public Citizen, Free Speech For People and the New Hampshire Coalition for Open Democracy, found that 69 percent of the state feels that such an amendment should be in place – including majorities of Democrats, Republicans and Independents.

The poll also found that 72 percent of respondents oppose (62 percent strongly oppose and 10 percent somewhat oppose) the U.S. Supreme Court ruling in Citizens United v. Federal Election Commission, which allows corporations to spend an unlimited amount of money to influence elections. The full results of the poll can be found here.
April 9, 2013
Conway has passed the resolution by 704 in favor and 520 opposed.
April 8, 2013
Conway Daily Sun article (No longer available)
March 20, 2013
The NH House passed HCR-2, which closely resembles our town resolutions. The vote was unfortunately along party lines. We do not feel that this issue should be a partisan one, and have not heard a reason why it should be.
March 12, 2013
The resolution failed to pass at the Eaton Town Meeting. The hand vote appeared to be about 1/3 in favor to 2/3 not in favor. Those speaking against the resolution expressed that it was inappropiate for a town to pass, or disagreed with the wording. No alternate suggestions were made.
February 5, 2013
The petitions for Conway, Effingham, and Jackson were filed, and the resolution will be placed on the warrants of those towns.
January 22, 2013
The petition to get the resolution on the Eaton Town Warrant was filed today.
January 19, 2013
An article and ad were run concurrently in the Conway Daily Sun. To read both, click the LINK HERE.
November 20, 2012
A meeting was held to finalize the Resolution wording, which was adopted unanimously. A new participant was brought up to speed by Joe, utilizing a short presentation.
Two Town coordinators were identified. Gail Munroe will gather petitions signatures for Madison; and Andy Davis for Albany.
Dick Pollock will recruit coordinators for the remaining Carroll County towns.
There was discussion about expanding our effort beyond Carroll County, and while we are in agreement that our ultimate goal is involvement by every New Hampshire town, we would require additional resources and people. Andy agreed to look into other statewide groups that may share our interests.
Eaton residents have reached the goal of 10 petition signatures to get our resolution on the Eaton Town Warrant.
November 10, 2012
A COMMENT section was added to the website. Comments may be general, or specific to the activities in a town.
November 7, 2012
An ad was run in the Conway Daily Sun. We received many hits on the website as a result.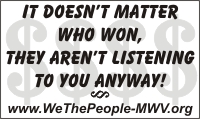 October 23, 2012
Tonight we had a productive meeting with several new participants from Eaton and Conway. A working group of Ken McKenzie, Joe Bagshaw, and Dick Pollock will meet in the next week to develop a Mission Statement and model resolution language. A target is to have petitions ready before the end of December, which would give us a month to get the required signatures. We will need coordinators for each town we intend to get articles on the Town's warrant.
Union Leader article about the Constitution Day activities at the Conway Library.