ALL HANDS ON DECK!
This is what we've been working for!
House Bill 116 is scheduled for a floor vote on
Wednesday, March 8! 
This bill acknowledges "the necessity of an amendment to the United States Constitution that redresses the corrupting influence that money has in the electoral system" and "calls upon New Hampshire's congressional delegation to do all in its power to support and pass such an amendment to the Constitution".  This bill also requires "at least 4 public hearings at geographically diverse locations in order to obtain public input".  You can read the text of HB 116 here.
HB 116 is virtually identical to SB 136.  That bill was passed unanimously by the state Senate, then defeated by controversial means in the House (see WE WON, THEN WE LOST).

The floor vote on HB 116 will be close.  Call your representatives and ask them to support passage of HB 116.  If you live in Conway, remind your representatives that on April 9, 2013, the voters of Conway passed a resolution instructing them to support a constitutional amendment.

In Carroll County; Albany, Conway, Eaton, Effingham, Sandwich, and Wakefield have also passed similiar resolutions.
Ask your representatives to uphold the will of the people.

---
Richard Clayton "Dick" Pollock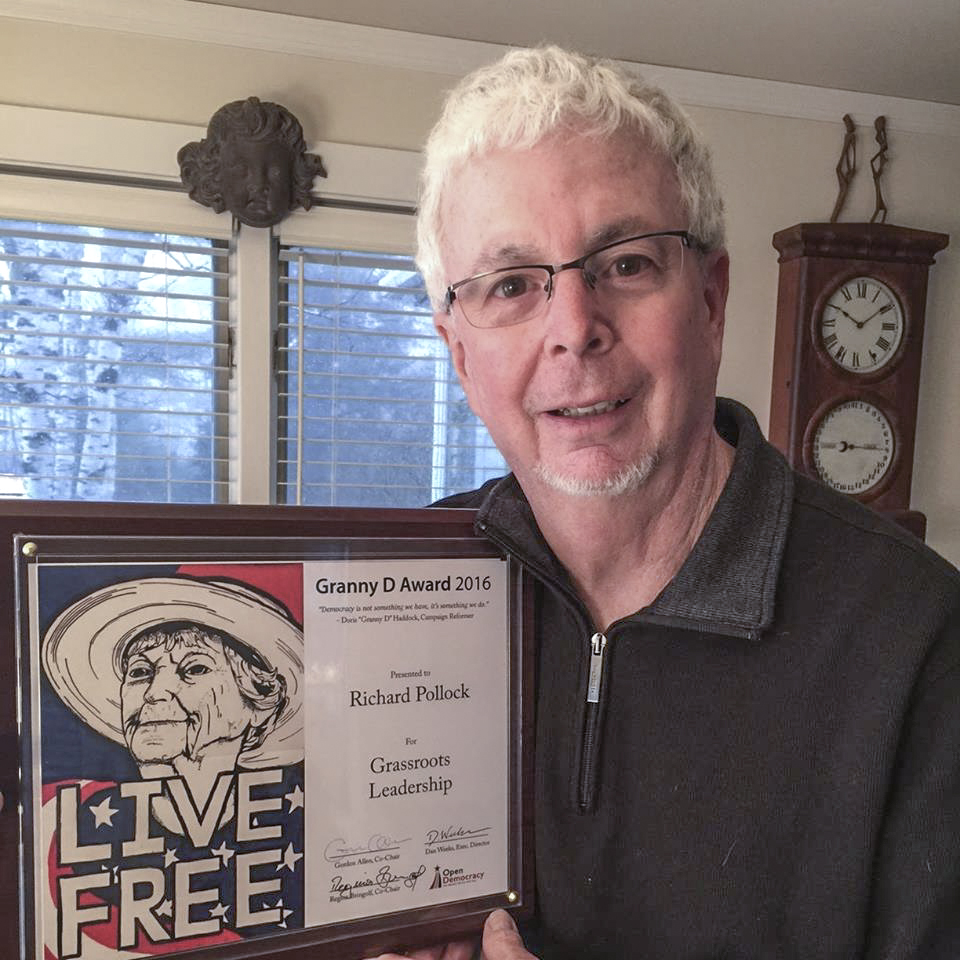 Dick Pollock passed away on Oct 17, 2016.
Dick led the effort in the Mount Washington Valley to pass resolutions in each town directing our NH legislators to support a Constitutional amendment to:
(1) clarify that the rights granted by the Constitution of the United States are for people only, and (2) enable changes in state and national campaign financing laws, to ensure that our elected representatives are dependent on "the People alone."
Dick was recognized with the 2015 Paul Wellstone Award and the 2016 Granney D Award.

Dick's leadership will be missed by all who knew him.
---
Current New Hampshire Legislation
Follow current NH legislation and bills of interest HERE
---

New Hampshire's own Doris "Granny D" Haddock was a political activist dedicated to campaign finance reform. From January 1, 1999 to February 29, 2000, then aged 88 to 90, she walked 3,200 miles from Pasadena, California to Washington, D.C. to advocate for ​"...​independence from the corrupting bonds of big money in our election campaigns.​" [her words]
---
2017 EFFORT TO PASS TOWN RESOLUTIONS
An effort to pass resolutions in Carroll County New Hampshire towns continued for the 2017 Town meetings.
Albany and Effingham passed resolutions in March 2016!!!
​
---
Past New Hampshire Legislation
2015 NH House Bill 371 (HB371) was introduced on January 8, 2015, and was defeated.
Text of the House bill may be read HERE
A Senate version of the bill is SB136 and
was passed by the Senate by unanimous consent, March 26, 2015
Currently; the passed Senate Bill (SB136) has been effectively blocked
by the House Legislative Administration Committee, which voted
7-3 on October 13th to send the bill to "Interim Study".
The bill was defeated after being brought to a vote and passed (WHAT?!)
UPDATE: WE WON! THEN WE LOST!
On January 7, 2016, the state House of Representatives passed SB 136 by four votes. Supporters of the bill moved for reconsideration, expecting that the motion would fail, sealing the deal and sending the bill to the Governor. Then things got strange. The electronic voting system suddenly failed, thus each representative had to cast an individual voice vote. Reconsideration passed, and the second vote to pass SB 136 was defeated when a dozen representatives switched their votes. Finally, a vote to bury the bill for this year passed and the will of the people was thwarted.

Read an longer explanation of what happened.
Read Joe Bagshaw's Letter to the Editor of the Conway Daily Sun
---
RESOLUTIONS PASSED IN FIVE
CARROLL COUNTY TOWNS
Four towns in Carroll County have been successful in passing resolutions at their town meetings (Conway in 2013; Eaton, Sandwich, and Wakefield in 2014, Albany in 2016). They were joined by at least 82 additional towns around New Hampshire that passed similiar resolutions in 2014-16. (Link Here)
---
Link here to the disappointing conclusion of 2014 Senate Bill 307 (SB-307), which expressed the will of the people, but was basically single-handedly defeated by one NH Senator.
---
We The People-MWV, support the efforts of The NH Rebellion to bring awareness of the problems with campaign finance, and their proposal to ask every candidate for federal office one question during the 2014 and 2016 election cycles.
"What specific reforms will you advance
to end the corrupting influence of money in politics?"
---

---
APRIL 2013
UNIVERSITY OF NEW HAMPSHIRE POLL
SHOWS THAT THE MAJORITY OF
NH RESIDENTS WANT MONEY
OUT OF POLITICS.
(Link)


---
The vast majority of the American people disagree with the United State Supreme Court's ruling in the infamous Citizens United v. Federal Election Commission case. This decision poses a deep threat to our democracy. With this decision the Court afforded corporations free speech rights our Founders intended only for people! (link to --Corporations) It allows corporations to spend as much as they want to influence elections. (link to --$$$$Millions) Government "dependent on the people alone" (James Madison) has been replaced by dependence corruption: members of Congress depend on moneyed interests for campaign funding and corporations depend on Congress for special favors like tax loopholes and bailouts. (link to --Dependence)
---
By passing warrant articles; Albany, Conway, Eaton, Wakefield, and Sandwich joined the people in 16 states and the District of Columbia that have already called on Congress for a constitutional amendment. Resolutions calling for an amendment are pending in the legislatures of many additional states. By passing these warrant article resolutions, they joined nearly 500 cities, towns and counties that have passed resolutions or ballot initiatives calling for a constitutional amendment. The combined population of governmental units that have called for an amendment is more than a quarter of the country.
---
Doug Hughes
Delivers message to Congress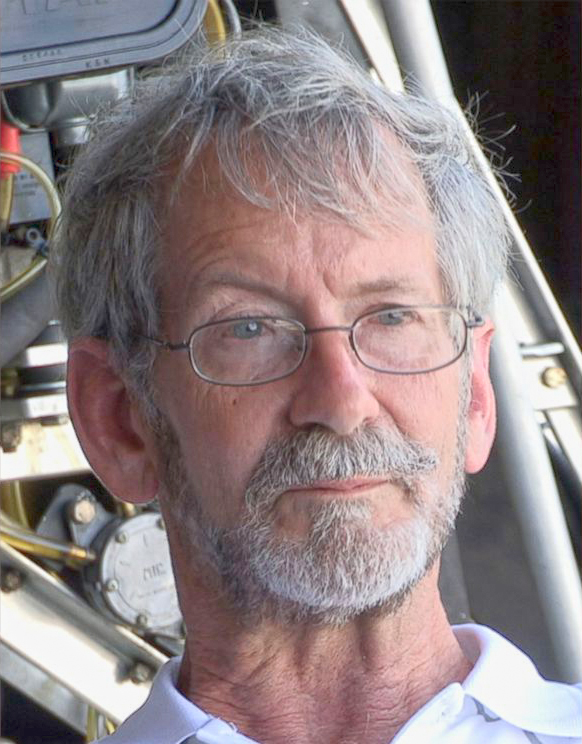 BY GYROPLANE!!!!!
Check out his website at: TheDemocracyClub.org